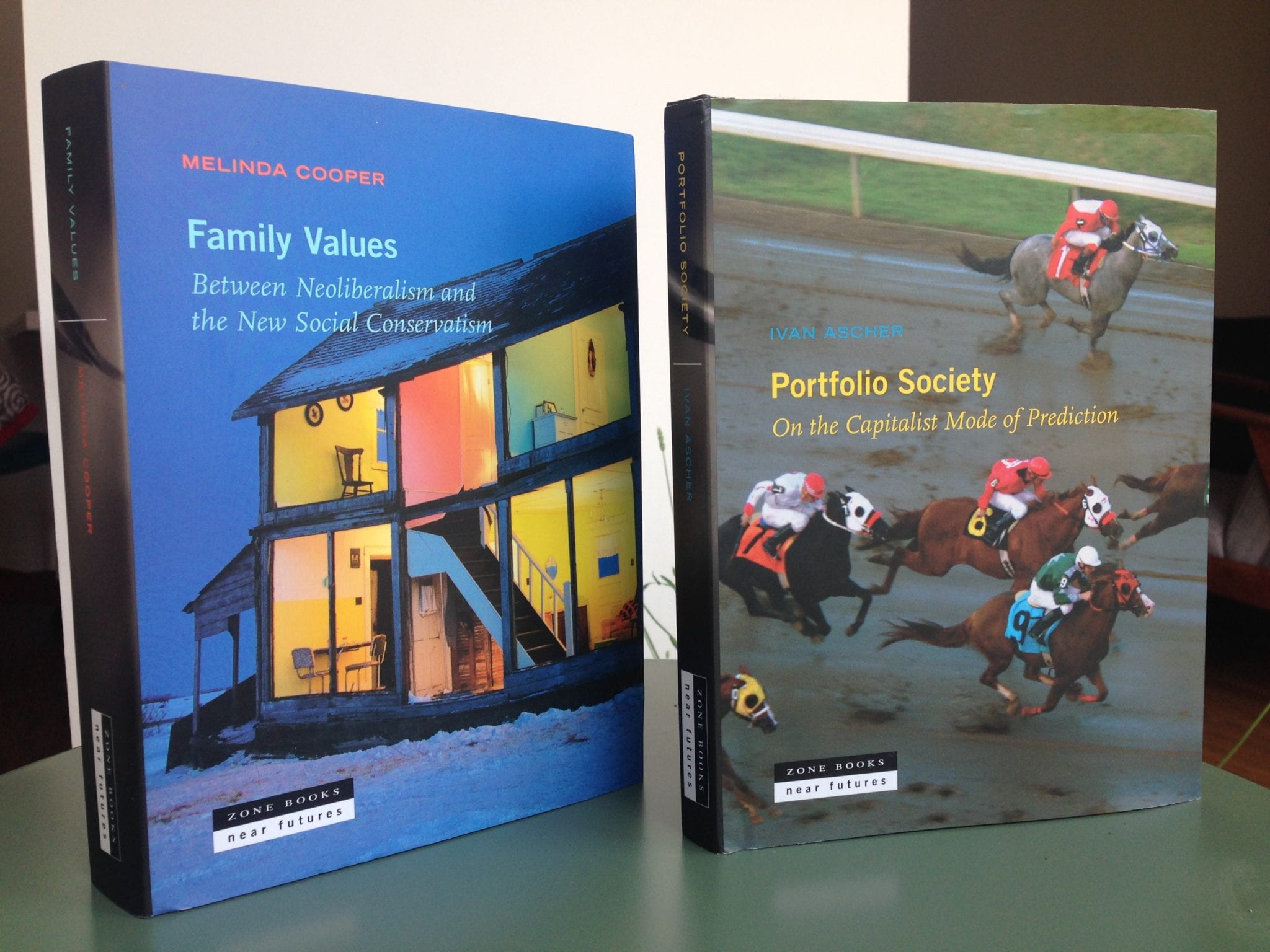 FAMILY VALUES by Melinda Cooper (University of Sydney) and PORTFOLIO SOCIETY by Ivan Ascher (University of Wisconsin-Milwaukee), published by Zone Books in the Near Futures Series and designed by Julie Fry.
This year I have been pleased to collaborate with authors and publishers releasing new books that I greatly admire. A selection of my non-fiction projects are highlighted below (another post will soon follow featuring the two novels and a memoir I am publicizing):
For The New Press (founded in 1992 by Andre Schiffrin whose The Business of Books I read a year or two ago and thought a lot about since) I have been working with Arlie Russell Hochschild on her recent book Strangers in Their Own Land, a New York Times bestseller and finalist for the National Book Award, continuing a publicity campaign begun by Angela Baggetta. Also for The New Press, I have been the publicist on the latest entry in their stats series – LGBTQ Stats by David Deschamps and Bennett Singer – an exhaustive almanac-style guidebook that M.V. Lee Badgett calls "the most comprehensive portrait of LGBTQ life around."
Zone Books, a scholarly publisher in the humanities and social sciences with an office in Windsor Terrace, Brooklyn, recently launched the Near Future Series, edited by Wendy Brown and Michel Feher, and I am helping to promote the second and third volumes: Ivan Ascher's Portfolio Society and Melinda Cooper's Family Values. The series is looking at the effects of neoliberalism in the past 30 years, with Ascher analyzing the role of finance and Cooper arguing that neoliberalism aligned with social conservatism towards the end of the 20th century.
I'm also very much looking forward to the publication of Marked, Unmarked, Remembered (West Virginia University Press) this fall, what promises to be a beautiful book of photographs by Andrew Lichtenstein with an introduction and essays by leading historians edited by his brother Andrew Lichtenstein, chronicling historical sites of American social conflict. I have known Derek Krissoff, the director of the press, for many years now and glad to have an opportunity to work with him and his colleagues on their lead title this fall.
"MARKED, UNMARKED, REMEMBERED is startling and extraordinary…this book is a true gift. It both unsettles our sense of who we thought we were, and it makes us see the imperative of forging a more just future for all." -Heather Ann Thompson, author of Blood in the Water, winner of the 2017 Pulitzer Prize for History.